Complete Story

02/22/2023
Mike Carroll Receives 2023 Doc Dever President's Award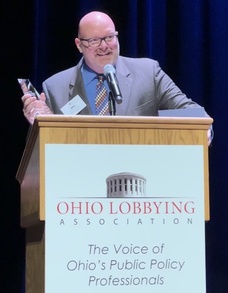 Josh Sanders presented the Darryl "Doc" Dever President's Award to Mike Carroll for his outstanding service to the OLA during the 2023 OLA Annual Meeting on February 21 at the Riffe Center's JoAnn Davidson Theater. The President's Award is given at the discretion of the OLA President to an individual who has significantly contributed to the success of the OLA.
"Mike has been a dedicated government relations professional for over 20 years. During that time and continuing to this day, Mike has been an example of what is right about our industry. He is highly respected by legislators, administration officials and other lobbyists for his strong advocacy that is always done with a smile. Mike served on the board and was our President in 2017, and continues to serve as a mentor to new lobbyists entering the field and remains active in our association. He is highly deserving of this award, and it is an honor to present it to him," said Sanders.
We congratulate Mike for this much-deserved recognition and express our gratitude for his dedication to our association.
---