Complete Story

02/28/2019
Don Boyd Receives 2019 President's Award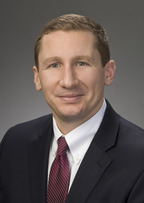 Don Boyd of the Ohio Bankers League is the 2019 Recipient of the Darryl "Doc" Dever President's Award.
2018 OLA President Rob Eshenbaugh announced the news at the 2019 OLA Annual Meeting on February 26th. Don was recognized for his outstanding service to the association in 2018.
"Don's commitment to our organization and his involvement in committees made him the perfect choice to receive this year's President's Award," Eshenbaugh remarked. Boyd co-chaired the Ethics Committee and served on the OLA Foundation's fundraising committees.
The President's Award is given at the discretion of the OLA President to an individual who has significantly contributed to the success of the Association. A list of past recipients can be found here.
---