Details

September 11, 2020
12:00-1:00PM
OLA Certification Webinar: Ethics Commission
Webinar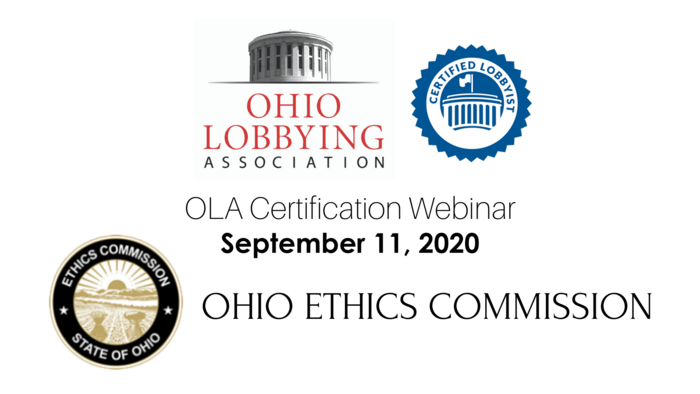 Susan Willeke, Education & Communications Administrator for the Ohio Ethics Commission will be the presenting information on Ohio's ethics laws and the issues OLA members should be aware of when they interact with members of the executive branch and local governments.
Please keep in mind that the Ethics Commissions' presentation only relates to OLA members' interactions with the members of the executive branch or local governments. The Ethics Commission does not have jurisdiction over lobbyists' interactions with the legislative branch of state government.
The webinar will run from 12-1 pm on Friday, September 11th.
2020-09-11
2020-09-11 13:00:00
America/Detroit
OLA Certification Webinar: Ethics Commission
Susan Willeke, Education & Communications Administrator for the Ohio Ethics Commission will be the presenting information on Ohio's ethics laws and the issues OLA members should be aware of when they interact with members of the executive branch and local governments.  Please keep in mind that the Ethics Commissions' presentation only relates to OLA members' interactions with the members of the executive branch or local governments.  The Ethics Commission does not have jurisdiction over lobbyists' interactions with the legislative branch of state government. The webinar will run from 12-1 pm on Friday, September 11th. REGISTER HERE
Webinar
---