06/19/2020
Sad News About Yvonne Lesicko
OLA Members,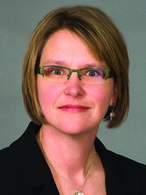 It is with the heaviest heart that we share the tragic news that our friend, colleague and former OLA President Yvonne Lesicko died last night.
Adam Sharp, Ohio Farm Bureau Executive Vice President, shared the following statement:
"Yvonne Lesicko, Ohio Farm Bureau's vice president of public policy, passed away last night unexpectedly. She was 48. Yvonne was full of life, loved her husband Scott, son Oscar and all of her family and friends with the enthusiasm she approached all things. We are all in disbelief. Yvonne's energy, humor and zest for life make this seem particularly unreal."
We will update OLA members with the arrangements as they are finalized. We ask that you hold Scott, Oscar, and Yvonne's extended family and friends in your prayers in the coming days and weeks ahead.