Details

June 18, 2021
12:30-1:30PM
OLA Certification Webinar: Redistricting and Election Laws
Zoom Webinar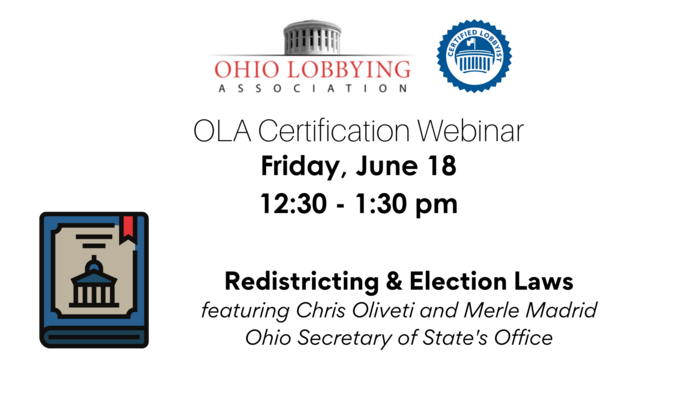 OLA Members are invited to join Chris Oliveti and Merle Madrid from the Ohio Secretary of State's office for a Certification Class on redistricting and election laws.
The session will be held on Friday, June 18th from 12:30 - 1:30 pm via Zoom Webinar.
The session will be worth 1 hour of CE credit.
2021-06-18 12:30:00
2021-06-18 13:30:00
America/Detroit
OLA Certification Webinar: Redistricting and Election Laws
  OLA Members are invited to join Chris Oliveti and Merle Madrid from the Ohio Secretary of State's office for a Certification Class on redistricting and election laws. The session will be held on Friday, June 18th from 12:30 - 1:30 pm via Zoom Webinar.  The session will be worth 1 hour of CE credit. REGISTER HERE
Zoom Webinar